Schmid Pharma is one of the first companies in Europe to offer Liposomes under private label. Liposomes are considered as one of the fastest growing segments within premium nutrition.
A Liposome is a very small molecule, not visible by the human eye. The outer layer of the molecule is made by Phospholipids. The core is made of out of water. The substance which is the base of the molecule, is: Phosphatidylcholine. Phosphatidylcholine is one of the main components of Human Cells. This makes that the molecule is absorbed really well by the human body.
We place vitamins, minerals, amino acids or herbal extracts into the tiny molecules. So that the active ingredient is absorbed really well.
AquaSome™
Aquasome ™ is one of the first liposome technologies available commercially within the food supplements industry. The most important element of an AquaSome is that both the core (containing the active ingredient) and the outer atmosphere consist of purified water. There is no oil in the product. In addition, the outer double membrane is made of genuine phosphatidyl choline, made from sunflowers. Phosphatidyl choline is one of the most important components of human cells. We extract our phoshatidyl choline from sunflowers. We pack the product under nitrogen, per day-dose. This keeps the product fresh, stable and easy to consume.

Lipo Intelligent Dosing System™
The molecular size of a liposome is very decisive in the absorption of the liposome. The formation of liposomes often results in a polydisperse distribution. Monodispersity has been central in the development of our liposomes. Our liposomes are monodisperses and very small and tailored to the right size (contact us for more information), this ensures that our liposomes are absorbed much better than most other (larger) liposomes. Because every liposome is tailored to the right size, every liposome goes exactly there where it needs to go. This underlines our philosophy: Aquasome, getting it there.
Available under private label.
We have several products finished to produce under your label .If we do not have your formulation developed yet, we are happy to do a feasibility study and develop a stable formula, free of charge.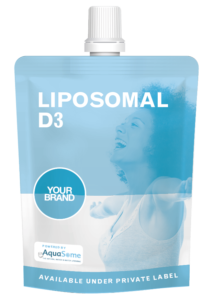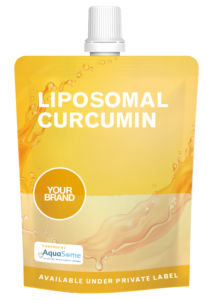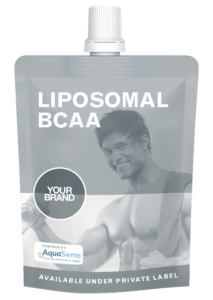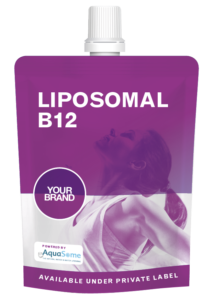 | Foodsupplements | Indication |
| --- | --- |
| Liposomal Vitamin D3 (Cholecalciferol) | Vitamin D3 Deficiency |
| Liposomal Vitamin B12 (Methylcobalamine) | Vitamin B12 Deficiency / Energy |
| Liposomal Curcumin | Powerfull Anti Oxidant |
| Liposomal BCAA | Amino Acids |
| Liposomal CBD | Well absorbed CBD formula |